 Event

Info

Sunday, 10 March 2024
James Arthur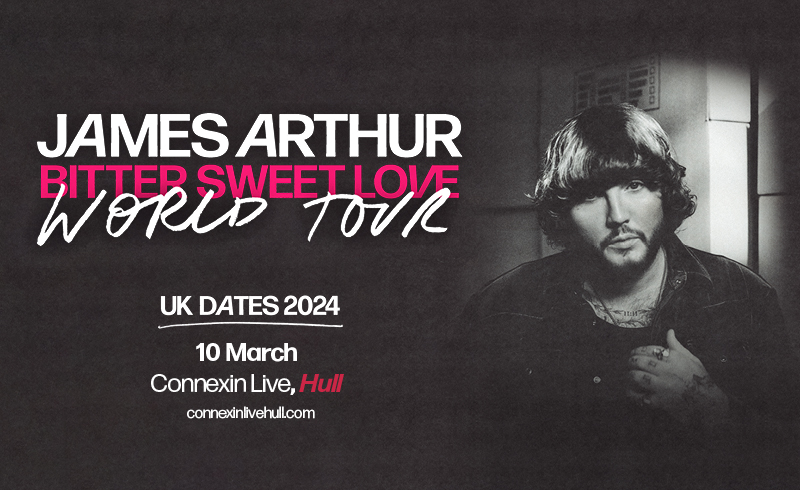 James Arthur will return to Connexin Live, Hull on Sunday, 10 March 2024.
Following his recent return with new tracks 'Blindside' & 'A Year Ago', James Arthur announces his fifth, brand new studio album Bitter Sweet Love - out January 26th, 2024 on Columbia Records.

James also announces his return to the stage with a huge UK & European tour that hits the UK in March 2024 for a run of 8 huge arena shows.

As well as featuring the two recently released singles, Bitter Sweet Love is James back to his very best, producing thirteen bites of world class music. After being on stage, it struck him how his fifth album should sound. A sold-out crowd was singing along to his hits, immersed in the emotion that James could hear in his own voice.

James is one of the world's biggest streaming artists, with over 38 million monthly listeners on Spotify alone. 'Say You Won't Let Go' became his breakthrough hit in the US. It was officially the UK's most streamed song in 2016 and has gone on to be enjoyed via 4 billion streams while the song's official video has achieved 1.5 billion views on YouTube. Earlier this year, the track became his first RIAA Diamond Single with 10 million certified units – making James one of just 100 recipients of an RIAA Diamond Single certification in the programme's history.

"The more albums you make and the more success you have, the more the pressure tends to be upon you. But I genuinely felt like a kid again, just making music I loved, not worried about trying to please everyone."

Event

Info

Sunday, 10 March 2024
VIP Seating Upgrades
Want to enjoy a VIP premium experience at Connexin Live? Enjoy some of our best hospitality and upgrade your seats to some of the best in the house.
Upgrade Seats
Back To Events