 Event

Info

Sunday, 25 February 2024
Harlem Globetrotters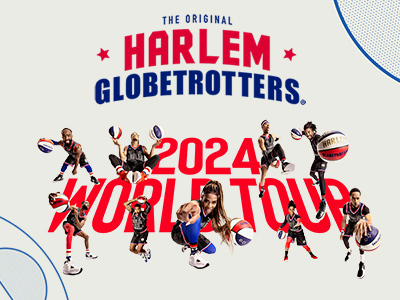 The Harlem Globetrotters will return to Hull for their brand new world tour on Sunday, 25 February 2024!
The Harlem Globetrotters 2024 World Tour is coming with game like never before! Your favourite Globetrotter stars are bringing out their amazing basketball skill, outrageous athleticism and a non-stop LOL good time. Join the Globetrotters as they go head-to-head against the Washington Generals who will stop at nothing to try and defeat the world's winningest team!
As the Harlem Globetrotters near their 100th anniversary, they have contributed to the growth of basketball at an immeasurable magnitude across the world. Through their artful athleticism and unparalleled moves, this team shares the game through an inclusive game day experience that cannot be beat! The Globetrotters welcome fans in the UK to join them for an interactive game day packed with one-of-a-kind premium offerings.
---
TICKET INFORMATION: A Magic Pass - Allowing fans to join the players on the court before the game to shoot some hoops, get autographs and snap pics is also available. Everyone attending the Magic Pass event - including parents - must buy a Magic Pass to attend the event. Under 14s cannot attend this event without an adult present.
Event

Info

Sunday, 25 February 2024
VIP Seating Upgrades
Want to enjoy a VIP premium experience at Connexin Live? Enjoy some of our best hospitality and upgrade your seats to some of the best in the house.
Upgrade Seats
Back To Events