 Event

Info

Sunday, 20 November
Hull Comic Con 2022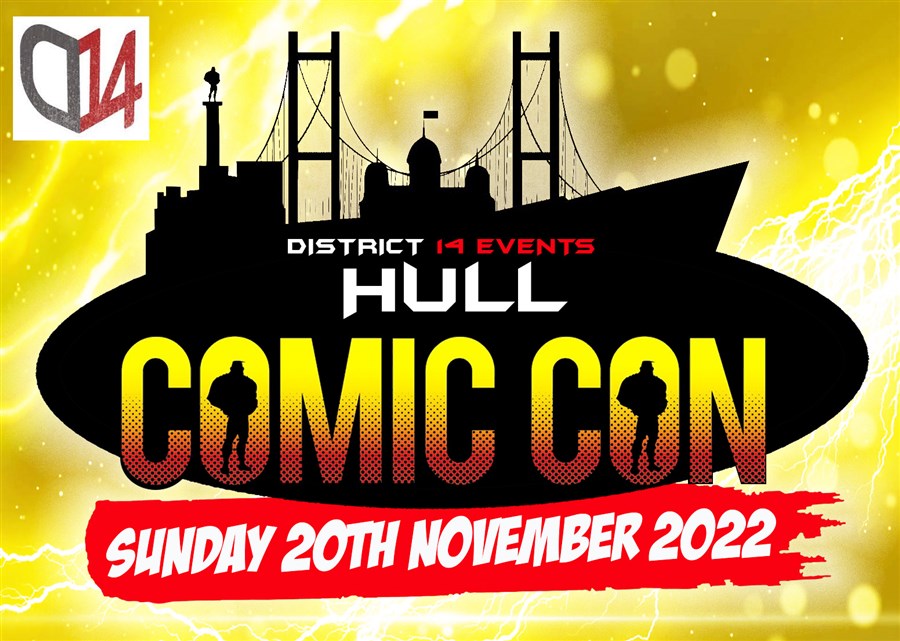 Now in its seventh year, Hull's biggest, brightest, family-fun comic con is back!
Returning to Bonus Arena in the heart of the city on Sunday, 20 November you can expect – workshops, props, celebrity guests, comic artists, traders, games, VR, and Cos-Play.
Tickets on sale Saturday 29 October 2022. For more information go to Hull Comic Con.
Hull Comic Con 2022 Prohibited Items List
The following Items are banned from Hull Comic Con 2022:
Metal blades whether sharp or blunt e.g. swords, axes, kunai, ice skates, and knives.
Guns, rifles, or artillery including airsoft guns, BB guns, paintball guns or props built from parts of these items
Hard bats, paddles or clubs e.g. wooden or metal baseball bats, golf clubs
Gun props made of metal or hard wood
Functional projectile weapons e.g. strung bows or crossbows
Slings and catapults
Sharp items e.g. arrows, bolts, protruding nails
Laser pointers, vuvuzelas, silly string, and drones (even if not part of a costume)
Heavy tools and power tools e.g. iron pokers, crowbars, drills, chainsaws
Chemical weapons, explosives, and incendiary device e.g. mace, pepper spray
Any pressurised containers and gas canisters
Fog or vapour machines
Any items restricted or prohibited from being carried by law e.g. knuckledusters, nunchucks, and bokken (a type of hard wooden or toughened plastic training sword)
Heavy items that could be used as weapons e.g. iron pokers, heavy cast iron pans, or crowbars are not permitted. Nor are power tools such as actual chainsaws or hedge trimmers
Roller skates and blades, skateboards, scooters are not permitted in the venue or on the Plaza within the security barriers
Glass, cans, aluminium bottles or thermoses of any kind. Exceptions will be made for those with medical requirements and/or special needs, we ask this is communicated to venue ahead of visit for ease of entry
Suitcases – The venue does not have storage for these so please do not bring them.
Backpacks over 30L *Smaller bags are permitted subject to a full search before entry
Alcoholic beverages
Helium Balloons
Fireworks, pyrotechnics, confetti or glitter bombs or sprays
Bottles of perfume
Prop Weapons:
Prop weapons must be constructed from a sensible material such as lightweight wood, foam or card. Glass is not permitted in the venue.
The maximum size permitted is 150cm, or 180cm in the case of a narrow staff/spear. Any items exceeding these dimensions must dismantle into smaller pieces without tools and be so dismantled before entering crowded areas.
Shields are allowed as long as they do not exceed 1 metre in height or width or have any sharp edges.
Foam weapons built round a core are permitted.
Lightsabers are permitted.
All entry constitutes consent to search. If you refuse an inspection, you will not be admitted and will not be given a refund. Patrons will be refused entry if they attempt to enter the venue with a prohibited item. Security reserve the right to confiscate any item that may cause nuisance or harm to others.
Masks must be removed during search for identification purposes.
All final decisions regarding costumes, prop weapons and accessories are at the discretion of the management. We cannot store any items that are refused entry.
Event

Info

Sunday, 20 November
VIP Seating Upgrades
Want to enjoy a VIP premium experience at Connexin Live? Enjoy some of our best hospitality and upgrade your seats to some of the best in the house.
Upgrade Seats
Back To Events