 Event

Info

Saturday, 08 October 2022

Want to enjoy a VIP premium experience at Connexin Live? Enjoy some of our best hospitality and upgrade your seats to some of the best in the house. Alt1ernatively enjoy pre-show dining in our restaurant or a complimentary drink in our lounge.
Extra Show

Info

7pm - Doors
8.15pm-8.45pm - Support: Charlotte Jane, Mitch James
9.15pm-10.45pm - Calum Scott
11pm - Curfew
Calum Scott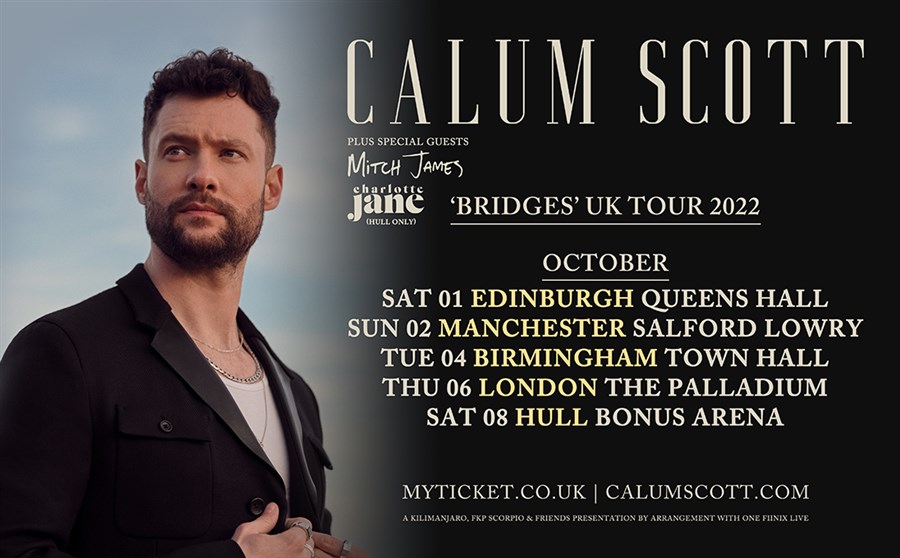 Singer-songwriter, Calum Scott, will visit the Bonus Arena Saturday, 8 October 2022 for a hometown gig.
With support by Charlotte Jane and Mitch James.
Following the release of "Where Are You Now" with Lost Frequencies that continues to dominate the UK Top 5 and airwaves around the world with over 400 million streams to date, multi-platinum selling singer-songwriter Calum Scott announces his biggest headline U.K. & European tour to date.
Says Calum, "It feels so incredible to announce my U.K. & European tour! It's been a long time coming and a lot of planning but after the last few years we've had, you can just tell how excited people are for live music again and I'm so happy to be a part of it. I am coming back with my band to play the songs that people discovered me on, as well as new songs from my second album which I would say is my best and most personal work yet - I can't wait to see you there."
The news also follows the latest release of Calum's emotionally empowered single and video "If You Ever Change Your Mind." It's the third song that Calum has shared from his highly anticipated sophomore album, due out this spring.
"If You Ever Change Your Mind" arrived on the heels of Calum's recent single "Rise," a wildly soaring track whose video features a captivating performance from British actor Georgia Hirst (known for her role on the acclaimed historical drama "Vikings"). Prior to releasing "Rise," Calum offered up the soulful minimalism of "Biblical": a heart-on-sleeve ballad he later followed with an American Sign Language (ASL) version made in collaboration with the Tony Award®-winning Deaf West Theatre. Check it out HERE. Along with "If You Ever Change Your Mind," both "Rise" and "Biblical" will appear on the follow-up to Calum's 2018 full-length debut Only Human — a widely acclaimed effort that hit No. 1 on the iTunes album chart in 21 countries across the globe, in addition to selling more than 3.6 million in adjusted album sales and garnering over 7.5 billion combined streams.
ABOUT CALUM SCOTT
With the arrival of his 2018 debut album Only Human, U.K. based singer-songwriter Calum Scott landed at No. 1 on the iTunes album chart in over 20 countries around the world, amassing over 7.5 billion total global streams and counting. Now certified platinum or gold in 21 countries, Only Human includes his platinum-selling smash "You Are The Reason," a track that cracked the top 25 on Spotify's US Viral 50 and hit the top 10 on iTunes single charts in 38 countries. The album also features Calum's stripped-back, platinum-certified cover of Robyn's "Dancing On My Own," which earned a Brit Award nomination in the category of Best British Single.
His first new music since Only Human, Calum's track "Biblical" marked an exciting evolution of his artistry, infusing even more raw emotion into his soulful and timeless sound. With its title referring to "a love of biblical proportions that transcends everyone and everything," according to Calum, the piano-laced ballad is the first song released from his highly anticipated sophomore album, due out this spring. Released in October, his recent single "Rise" brings Calum's warm yet powerful vocals to a majestic sound created with the help of producers Gabe Simon (Maroon 5, Rag'n'Bone Man) and Jon Maguire (James Bay, Liam Payne, Rita Ora). "'Rise' celebrates overcoming, defeating the odds, and prevailing despite the obstacles or the knock-backs you face along the way," says Calum.
Event

Info

Saturday, 08 October 2022

Want to enjoy a VIP premium experience at Connexin Live? Enjoy some of our best hospitality and upgrade your seats to some of the best in the house. Alt1ernatively enjoy pre-show dining in our restaurant or a complimentary drink in our lounge.





Book Lounge and Restaurant Upgrades

Add an extra sparkle to your arena experience with a delicious two-course meal and coffee in our Moondance restaurant.

Or upgrade your tickets to our lounge experience, queue-jump via our VIP entrance and get access to a private bar with complimentary drink.

Please note event tickets must be purchased seperately.

For details on all of our hospitality experiences email [email protected] for more details.

Buy Hospitality Upgrades

Extra Show

Info

7pm - Doors
8.15pm-8.45pm - Support: Charlotte Jane, Mitch James
9.15pm-10.45pm - Calum Scott
11pm - Curfew
Back To Events